2016 – Ca se précise et arrive à grand pas.. Un séjour sur La Somone pour ce début d'année. Matériel portable 100w et trafic « Holiday ».. A bientôt.
It's almost here ..  M'bour for early 2016's . 100w portable equipment and traffic « Holiday » .. soon.
Bien arrivés sur Ouakam, nous partons le 2 janvier pour Mbour. A bientôt sur l'air.
–  TTY Maniaques .. 14088 .. !
***************************
La Somone, installation et trafic..
Le trafic a débuté. Data pour l'instant avec la verticale en L, le FT857d, MixW, le modem Signalink et le PC portable.. Pas d'internet à la maison c'est dommage pour le log mais on arrive à se connecter lors de passages dans les hôtels et/ou restaurants. Mise à jour sur Clublog hebdomadaire ou coup par coup.
La 3G est arrivée .. plus simple et mise à jour presque quotidienne des logs..
***************************
Concours du REF Télégraphie.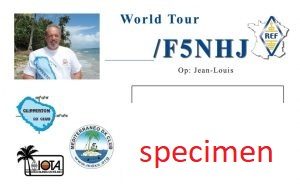 Encore merci mille fois à Daniel 6W7RP (Président Adrasec Sénégal)
Pour son aide précieuse et son accueil. En espérant te revoir très bientôt. 73 88
our l'
Afri
***************************
2018 – La Somone .. De retour sur le Sud pour deux semaines et une semaine sur Dakar et sa région;
Back for two weeks in South and one on Dakar area.
6W/F5NHJ (Check ClubLog 6W7/F5NHJ)
Qth : Keur Maringuen lodge
PC – FT 857d – Signalink USB… Samlex 1223
L antenna and Buddistick…
***************************
2019 qsy — 6W7/F5NHJ
Le qsy sur La Somone habituel. Bonnes conditions au début mais beaucoup de qrm du au vents de sables. Ft8 uniquement. Spécial mais la demande est là, donc au travai..lol
From feb 25th to 13rd of march i was near Saly, 70km south of Dakar on « La petite cote ».
Same qth in IK14ll .. and one day qsy in Dakar IK14gr.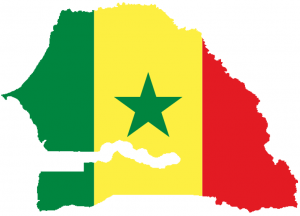 Log loaded on Clublog, and LoTW.
Bons qso mais le FT8 n'est vraiment pas ma « tasse de thé », en fait je n'avais jamais imaginé combien de « Bourrins » on pouvait trouver derrière les claviers … Appeler, appeler et ne jamais écouter .. En fait, de même qu'en SSB ou en CW
De plus rien de facile avec un call en barré xx/f5nhj .. le programme n'autorisant pas l'emploi du RR73. Donc mode Fox et là on subit..
Nice qso but the FT8 is really not my « cup of tea », in fact i never imagined how much « Mule » you can found behind the keyboard.. Calling , calling and never listening.. In fact the same like an SSB or CW trafic
Nothing is easy with a slashed call like xx / f5nhj .. the program does not allow the use of the RR73. So qsy in Fox mode and here we suffer ..
Jean louis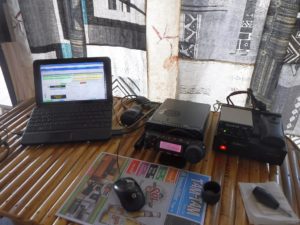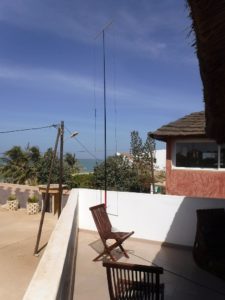 The sation  –  Testing C.Pole antenna for 18 mhz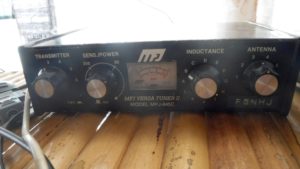 My old Mfj945  (25 Years old) – doing well with a 32 feet LW !
***************************